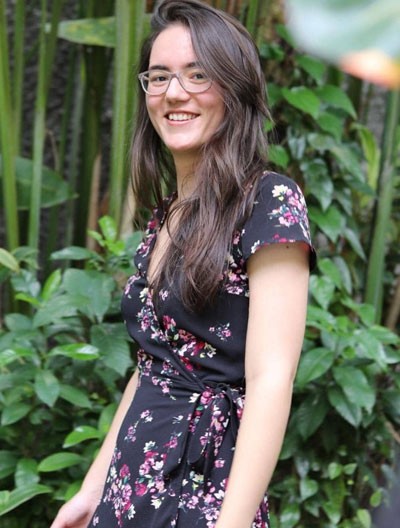 For every webinar campaign we run, there's a lead generation and sales ad campaigns. The one is a sales ad campaign targeting warm audiences to buy Deya's course. Deya's course is called DBM Bootcamp. It's a course designed for female freelancers, VAs, 9-5ers who would like to to jump in to online world and be a highly effective Digital Business Manager (known as OBM – Online Business Manager) helping online businesses owners manage and scale their business at ease.
Campaign Objective = Conversions
Conversion Event = Purchase
Campaign Length: 7 days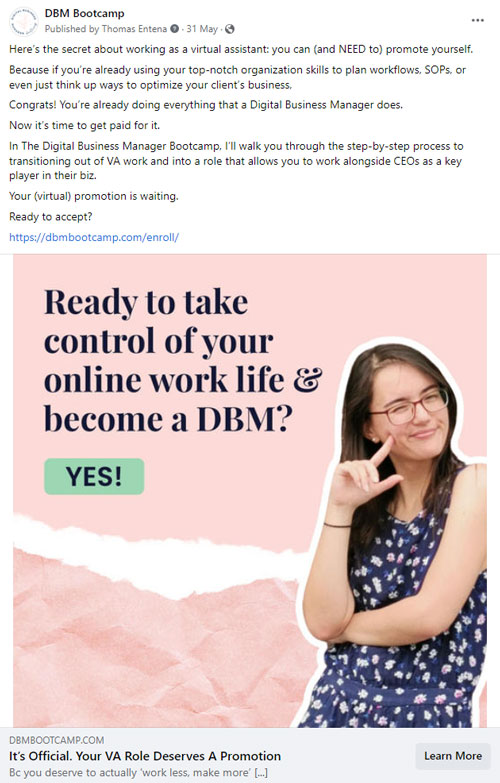 We are using a Dynamic Creative ad for this campaign (2 copy x 2 creatives x 2 headlines). And that exact combination above made the impact. While we can't provide the exact metrics of this specific ad, we can show the metric of the overall Dynamic Ad.
Here are the vital metrics of this Dynamic Ad:
CPC: €1.75
CTR (Link): 0.81%
CPL: $7.90
Leads: 4
Purchase: 3
ROAS: 14.62
Ad Spend: €31.58
This ad has 3 sales ($127/sale – 6 months payment). If we compute the value for 6 months (given without any refunds) the total value of the sales would be $2,286 (3 x $127 x 6 months). That's equivalent to €2,300.2. All generated for total ad spend of €31.58. That's an overall 72.84 ROAS!
This campaign was originally a standard traffic campaign. It's targeting all warm audiences and asking them to visit the sales page. It is composed of 2 ads.
Since it's having at least 1% CTR (Link) but not generating sales, we decided to to put a stir on it. We use Dynamic Ads. It has the same settings on campaign and ad set level. The difference is that we turned on the Dynamic Ad creative settings on the ad set level, and poured in the 2 copy, 2 headlines, 2 descriptions, and 2 creatives (Image and Video). And we let Facebook do its algorithm.
The effect of this successful campaign was not immediate. Upon digging on the data, we found out that all 3 sales were 3-4 weeks in the making. Meaning, people clicked on this ad and didn't purchase the course immediately. It took them 3-4 weeks of nurturing before buying. This where email sequences, retargeting ads and continuous social media content help a lot. Those elements worked behind the scenes after the audience saw our first ads but didn't buy right away.
Ready to Elevate Your Marketing?