FACEBOOK MARKETING ANALYTICS CASE STUDY
How EHM turned $10.5k in ad spend into over $158,000 in profit, in one launch.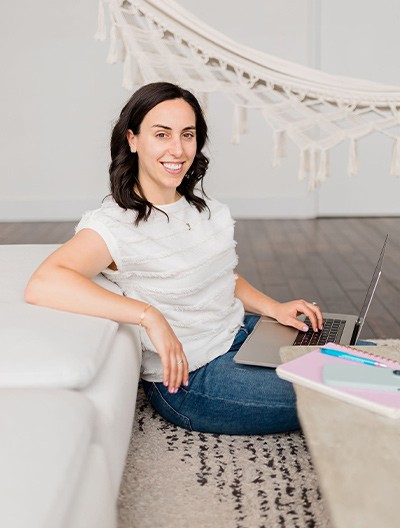 Her business was successful. Then, Elevate Her Marketing helped her sky rocket her profit.
As an attorney turned entrepreneur, Sam Vander Wielen already had high conversion rates with her main offer, The Ultimate Bundle™. It provides what every online service entrepreneur needs –  a way to legally protect and scale their businesses.
Because of the demand and a strong organic strategy, Sam had sales coming in consistently. But it was impossible for her to scale without pouring more time into her business. And even when she did, Instagram was becoming so busy that it was harder and harder to grow her reach organically.
Additionally, a sick family member required Sam's attention and focus. While she knew she could leverage the power of ads to scale her business, she was reluctant to do so in a way that meant more time away from her family.
She started working with Elevate Her Marketing as a consulting client (where she ran ads herself with the support of the EHM team).
After seeing how much work goes into running her own Ads & generating $15K – $20K each month in revenue with our support, she decided to upgrade and have EHM fully manage her ads.
We consistently delivered Sam positive results with her evergreen course, but she also likes to launch from time to time. One of our best launches came when EHM helped Sam generate over $158K in profit — more than her salary for the year at her corporate job.
Moving Sam from a consulting client to a full management client didn't happen overnight and achieving this kind of result took years, both on Sam's end building her business and with our partnership with her.
Ads are a long term strategy and Sam knows that, which is one of the reasons she was such an ideal client to work with! 
Keep reading for MORE details on this Facebook marketing analytics case study.
When Sam started with us, her primary goals were:
Consistent flow of leads – Sam knew her funnels had a high conversion rate, so all she needed was more people coming into that funnel. Once you can scale your lead gen at a faster pace, you create a snowball of interested, potential customers & consistent sales follow!
Increase ad spend. Sam's ad spend was conservative at first but she trusted in her funnel & our partnership which lead her to approve an increase in ad spend, based on data. This allowed us to scale her ROAS & profits steadily.
Use the combination of her evergreen funnel and strategic ad campaigns to scale – Sam needed to take time off social media to be with her family, and enjoy the life she'd built thanks to her business. She was done having to show up on Stories every day to make sales.
Elevate Her Marketing helped Sam Vander Wielen achieve a 15.78 ROAS on her live launch, and increase the monthly ROAS from her evergreen funnel from 2-3 X ROAS to between 5-8 X ROAS.
FACEBOOK & INSTAGRAM ADVERTISING:
THE RESULTS
Amount Spent: $10,702
Total Purchases: 123
Total Sales Income from ads: $168,760
Total Profit: $158,057
Total Leads: 2,224
Average Cost Per Lead: $4.50
So, what does Elevate Her Marketing offer clients beyond quantitative ad results?
A long-term, supportive relationship: We weren't able to create this Facebook marketing analytics case study within a month of working together. By the time our Facebook marketing agency provided Sam with the 15.8X ROAS, we'd spent a year building trust with each other. Trust is vital to ad campaign success because we're spending so much of our clients money, but at the same time they have to let go of control to truly benefit fully from our expertise, which can be challenging at times!
Creative expertise: Part of Sam's trust came from the fact that our creative team had her voice and brand on lock. They rarely needed feedback or correction when it came to word choice or visual feel, which streamlined the entire process. In a post-iOS update world, messaging is so vital & it's what really drives campaign success.
Freedom: Sam spent years building her business, creating her product, support her community & perfecting her funnel. She put in a TON of work into all of that, but still, without paid ads she was on the hook for all of the marketing and sales. Sam knew she wanted to support more students & focus on other areas of her business that excited her. With ads consistently bringing in new people to her community & converting them into purchasers she had a lot more time on her ads to truly step into her CEO role, grow her team, and choose what she worked on and what was handle by others!
Ready to Elevate Your Marketing?