Generate More Profit With Less Effort, Using FB & IG Ads
Scaling a business is HARD! But it's possible, with the right strategy.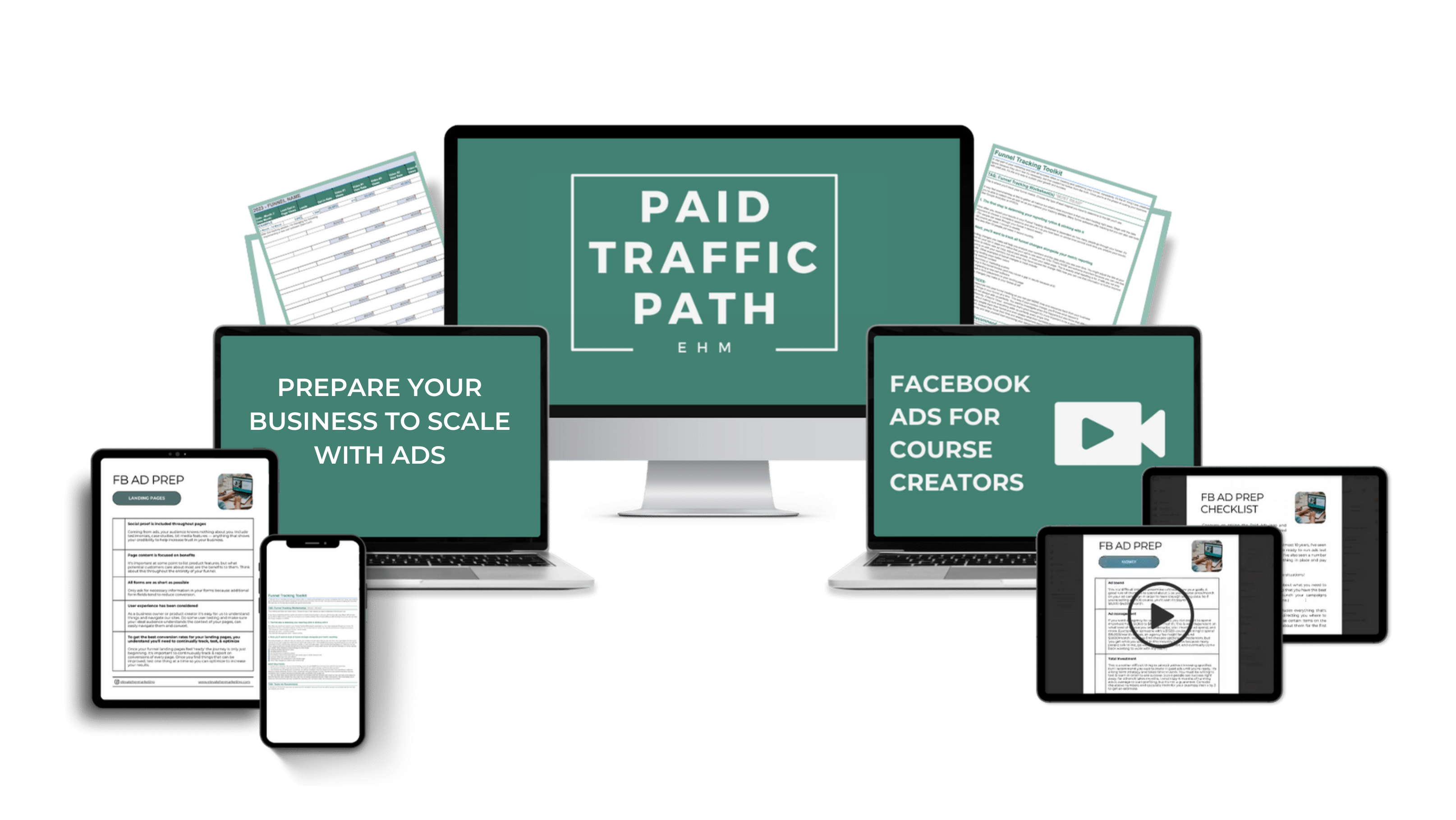 I won't dwell on the fact that organic reach is dying on social media (read: dead) because you already know that.
So let's focus on what DOES work, right now, for online course creators that want to scale their business… FB & IG ads. 
Sure Tiktok seems exciting with the virality potential & Pinterest gets you cheap clicks,
but if you want

consistent sales

, which I know you do, the only answer is

FB & IG ads

.  
I know what you're thinking, of course someone that runs an ads agency would say that, but humor me for a minute…
Yes, Tiktok does have some serious potential to help you grow your business but it's years away from having the profit driving power of Meta's advertising platform. And sure, organic marketing still works sometimes but it's a complete toss up and the amount of time & resources you'll have to put into making that work is atronomical! You'll make 3x the return if you instead invested that in ads.
Anyway, most people dive into running ads without a clear strategy because they've put together a bunch of random tips & tricks from lots of Google searches or ChatGPT questions — and they pay for it, big time, when their ads totally flop.
It's why we have clients prepare so extensively before we work with them, we Deliver great results because we've helped them prepare their business for scaling with cold traffic

before

starting with us.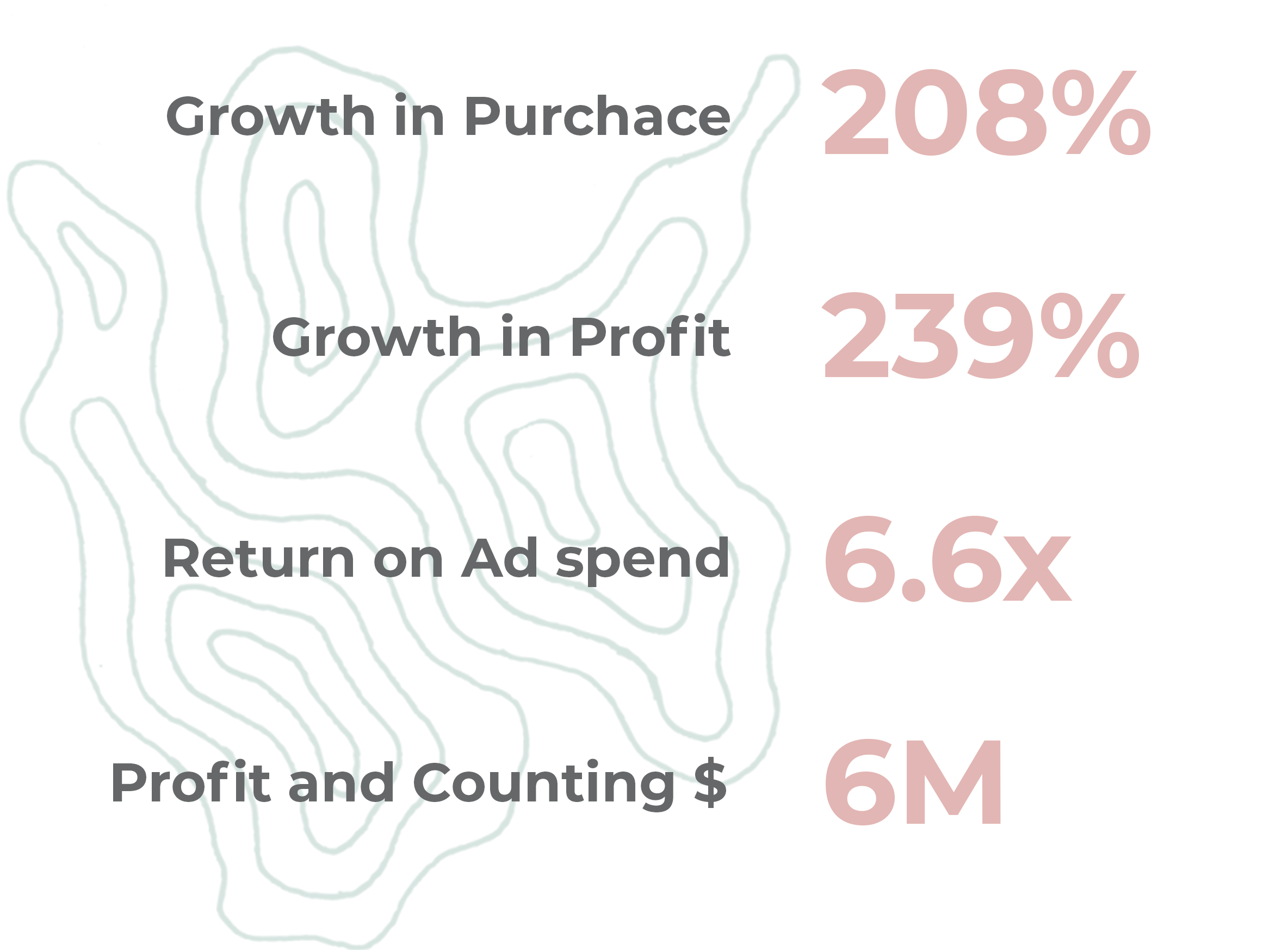 At Elevate Her Marketing, our ultimate goal is to help you grow your business profitably. 
But building the right Facebook ad campaign that will help you achieve this can be wildly overwhelming…like, makes you want to curl up on the couch and watch 7 straight episodes of your guiltiest-pleasure TV show so you can avoid all your work.
Don't worry, I've been there! I've been running my own business since 2017 and have had days like that. It doesn't have to be like that though, you can have expert support and guidance at a fraction of the cost.
Take the Guesswork Out of Preparing for
a High Converting Ad Strategy
More time behind your iPhone screen sharing what you have to offer through your IG Stories, only to hope & pray it works? You're over it.
It's time to feed that craving for consistency & certainty in your course sales.
Ads are the answer, so grab the expertise & tools you need to prepare your online course business to run them!
That whole, sales relying on you showing up on social media isn't a strategy that gives your business the security it needs, plus you're just not in the place in your business journey where that's the most important thing for you to spend time on. 
You've seen a lot of success already and you're looking to make your processes more efficient. As your business grows, you literally don't have the time to spend promoting yourself so much. 

I've been running ads for online course creators since 2014.
And along the way I've seen a ton of people FAIL with ads. 
Which totally bummed me out. But here's what I realized…
It's not the ads.
Unfortunately it's diving head first into ads without having a business or funnel that's prepared for cold traffic.

Ads just aren't quick & easy. It's a long term marketing strategy that will help you profitably scale your business, so it takes time to see success. 
For example, one client has worked with us for over 4 years and made over $4 million from ads and another has been with us for over 3 years and continues to make more in some of her  2-week launches than she did in an entire year as an attorney.
The first step to getting to that success? Putting the proper time and effort into building your strategy with intention.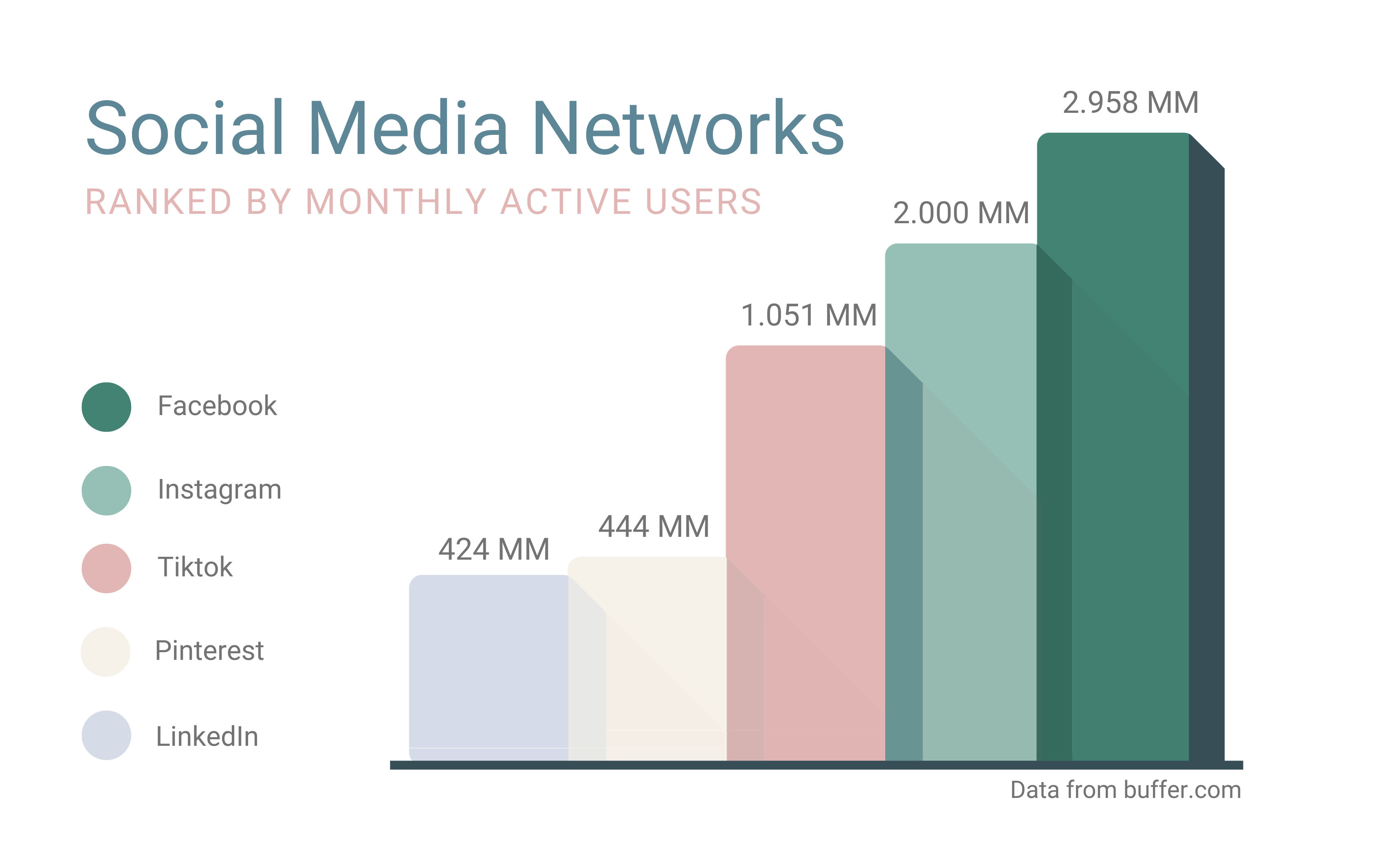 The majority of your audience hangs out on FB & IG, making Meta the most powerful social advertising platform.
Organic reach will continue to dwindle on ALL social platforms, but that doesn't matter when you have a solid foundation to scale your business with paid advertising.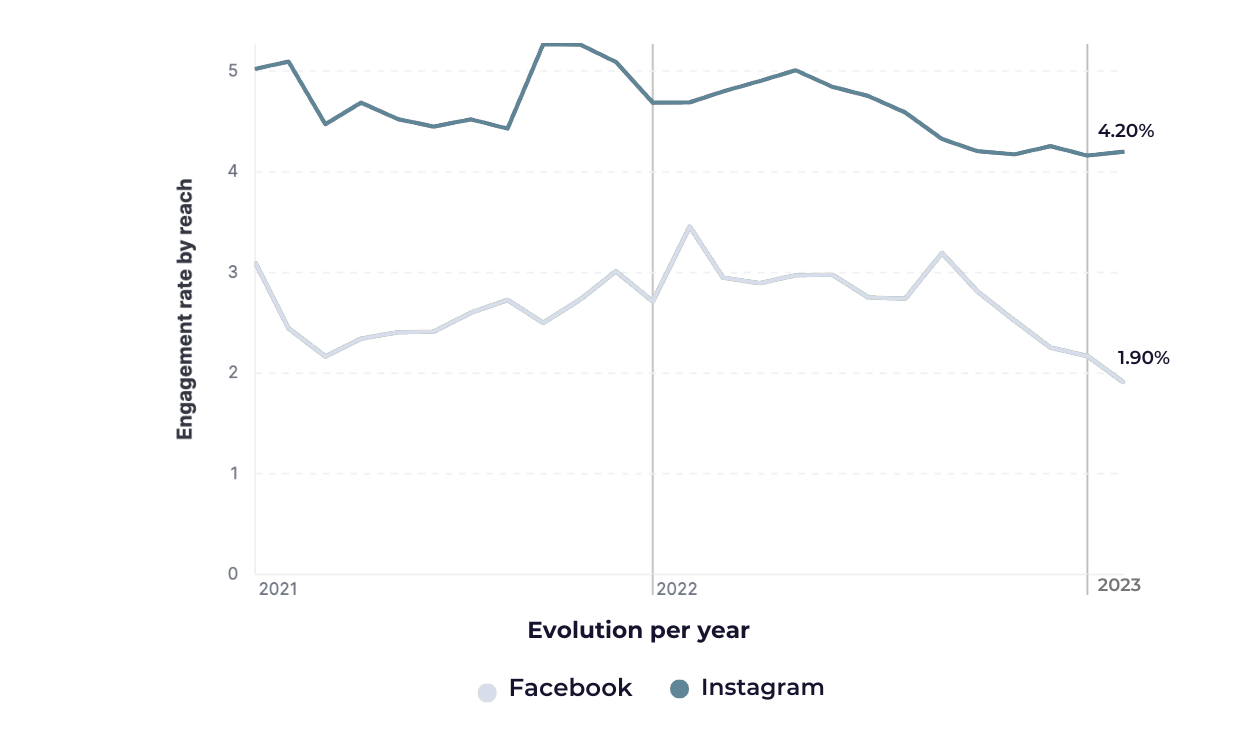 Here's why paid ads are a no-brainer: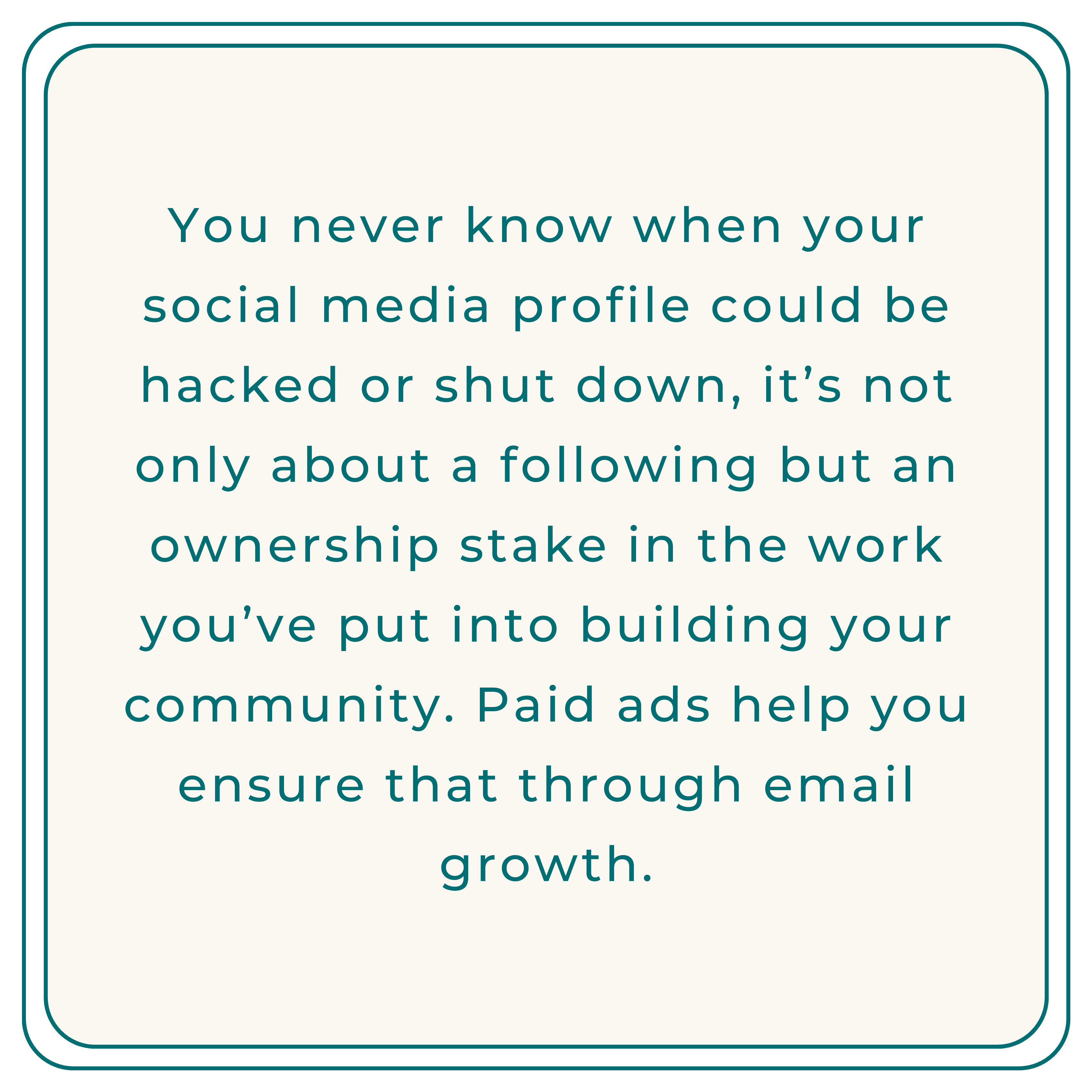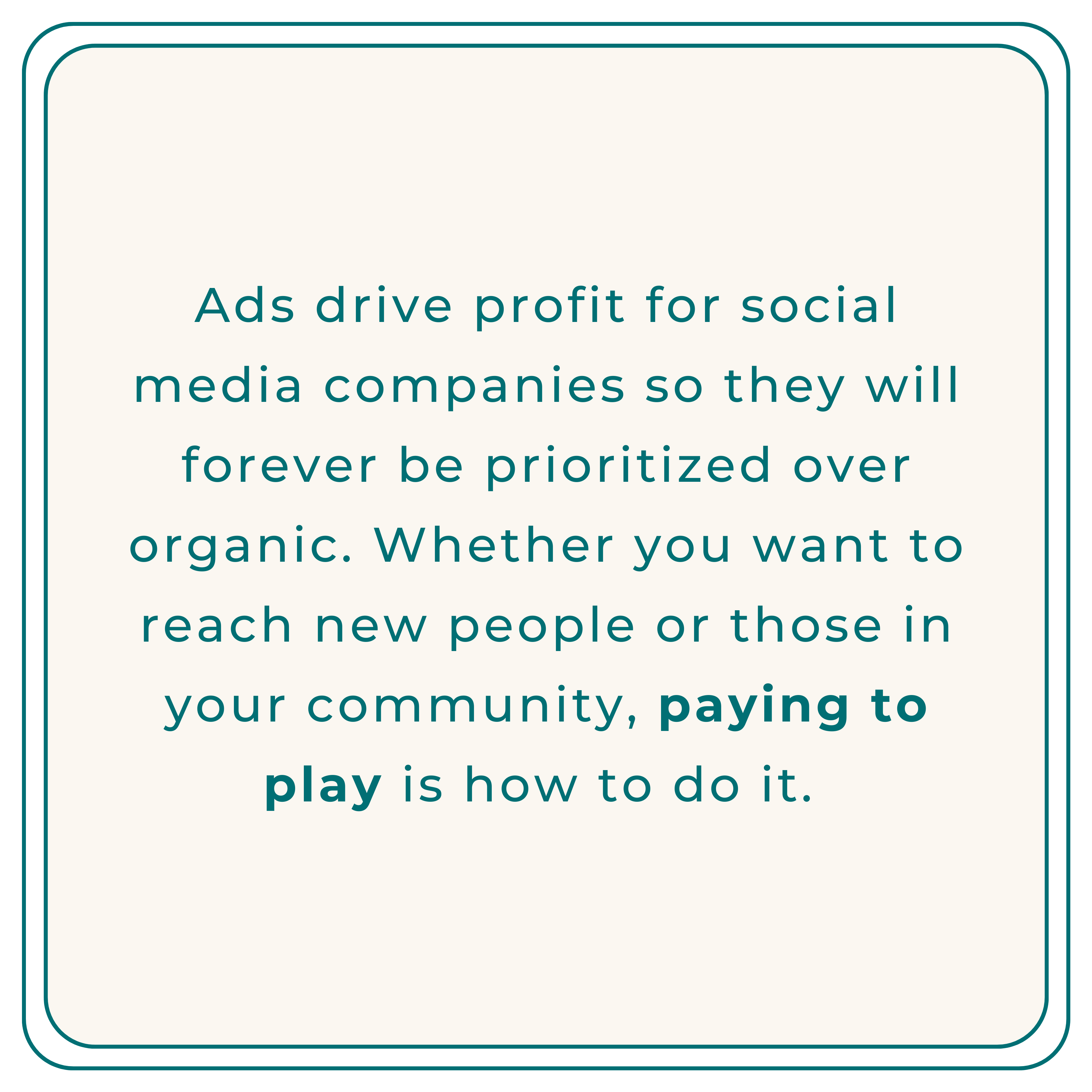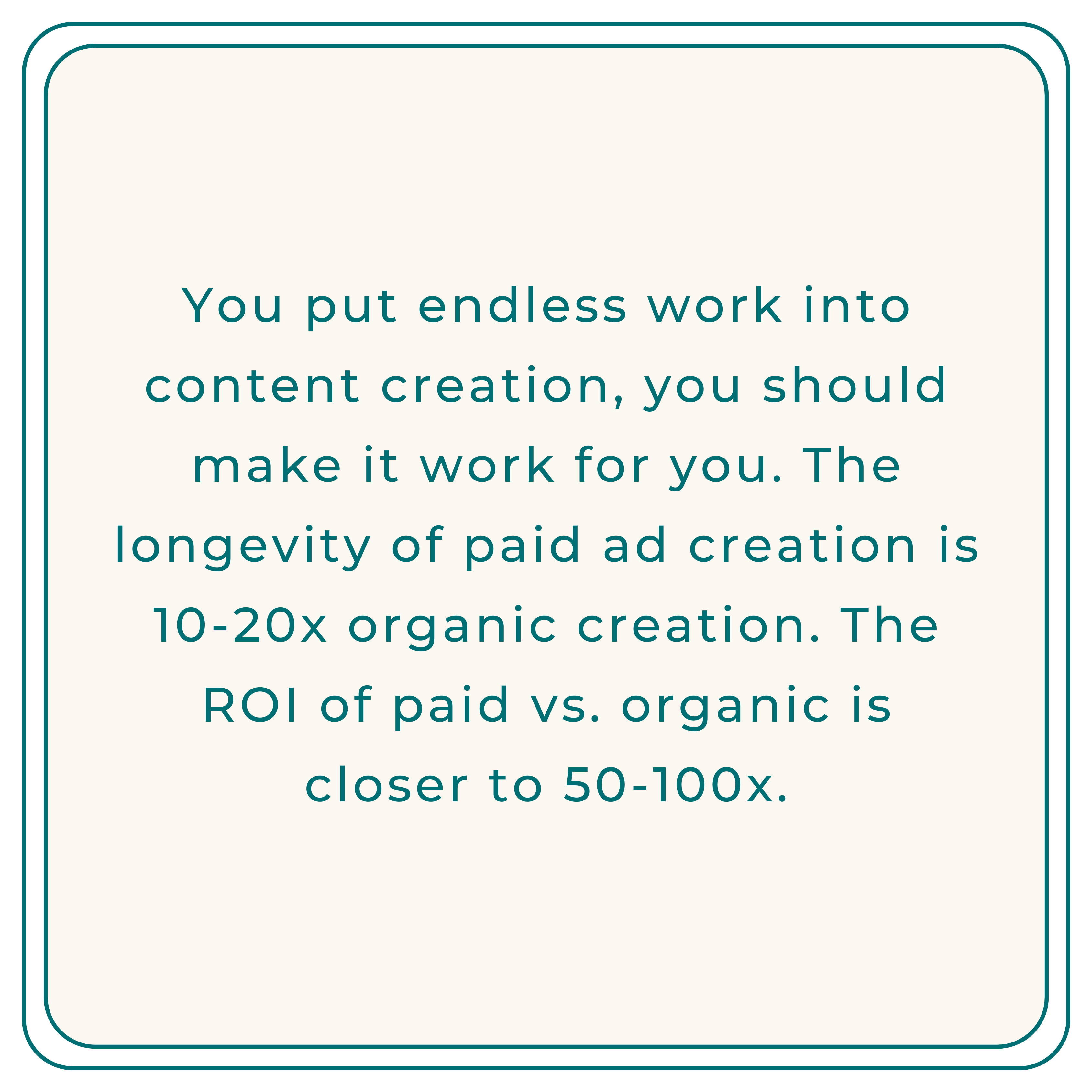 Because of my ad strategies,
my clients have been able to:

So if you're wondering if I can help prepare you for running FB & IG ads, the answer is 10000% Y E S.
But the real question is, are you ready to take this journey so you can change your business & life for the long term?
What would it feel like to know your business is perfectly set up so that you could build one ad campaign that brings you thousands of new social media followers, hundreds of new leads, and consistent sales of your course for months to come?
Can you even imagine being the online business owner that others look up to as a leader in the space and think "omg, I WISH I had as many course students as her!"
And what if that all gave you the freedom to have more choice in your day to day business schedule? If you could not only have more choice in your business but what if that also translated into your life?!
If you want this, you can have it.
In fact, you can get started today!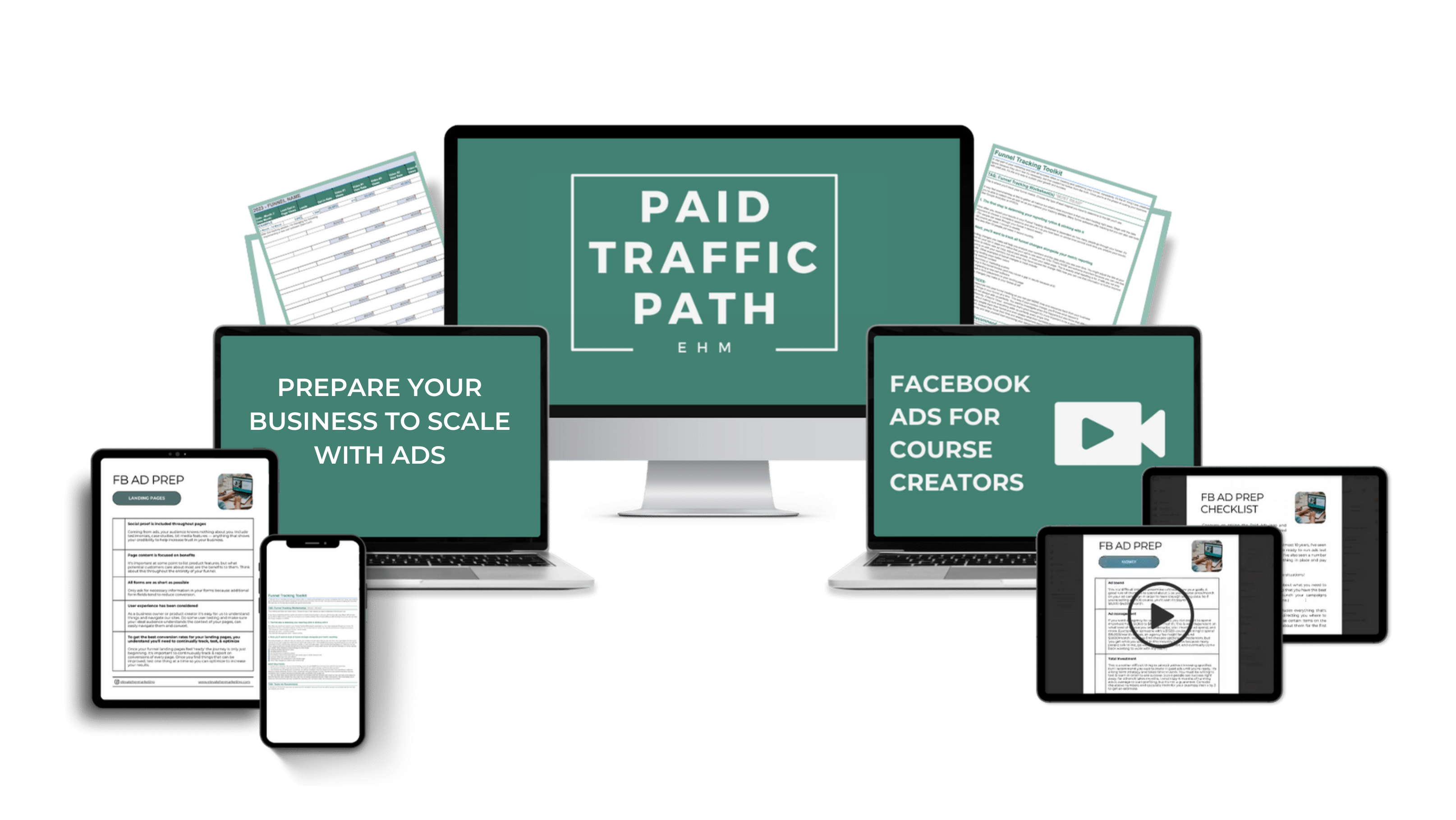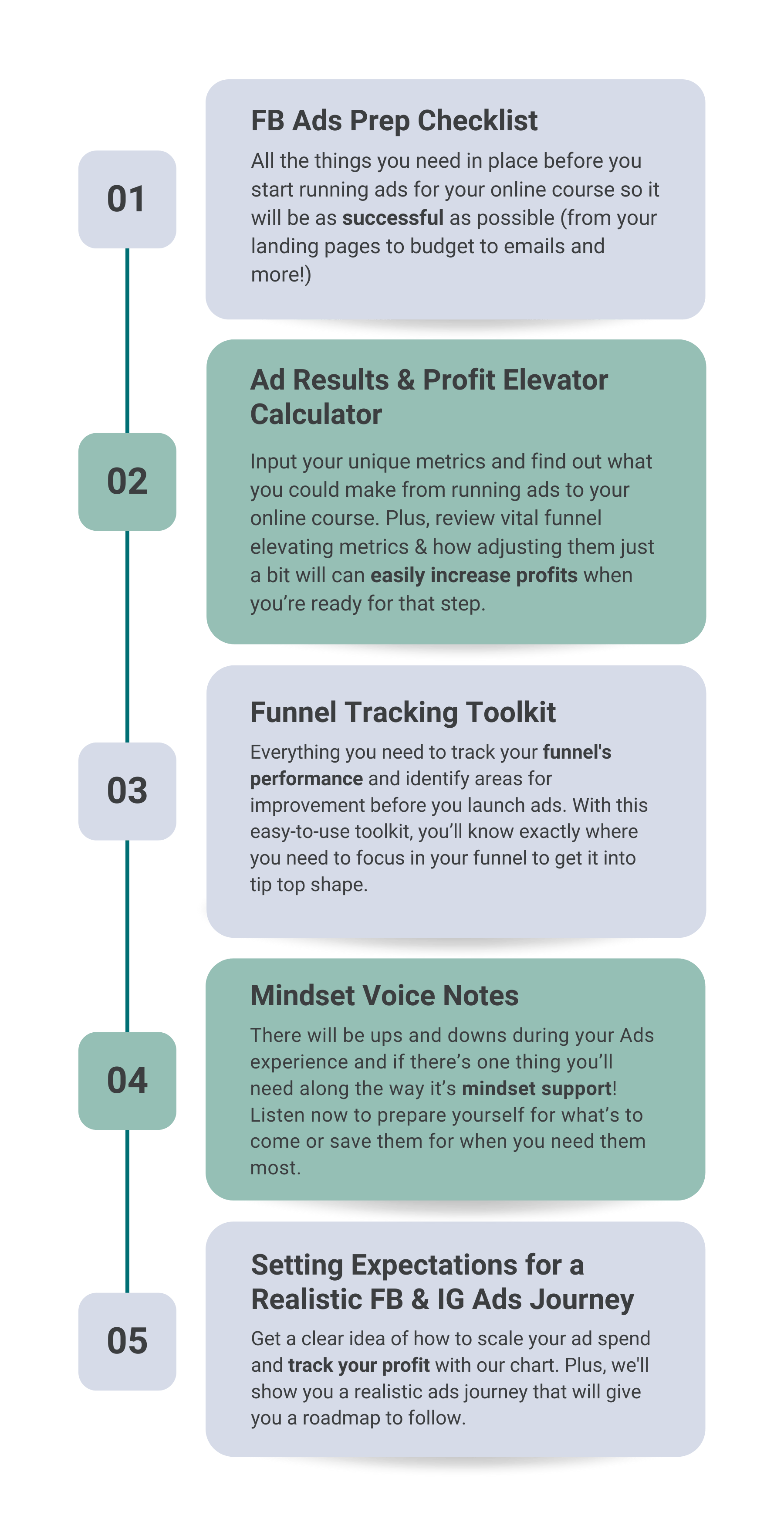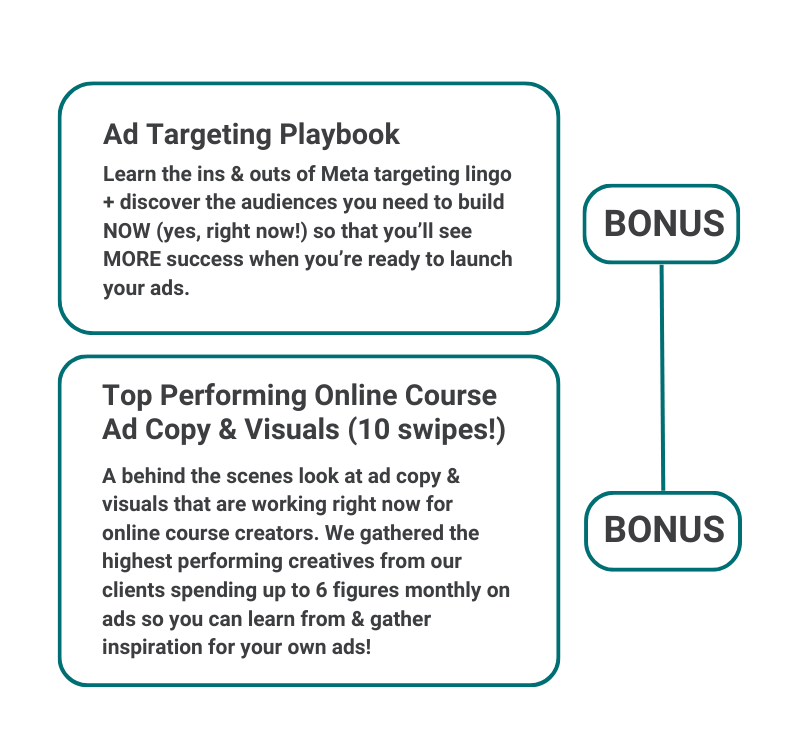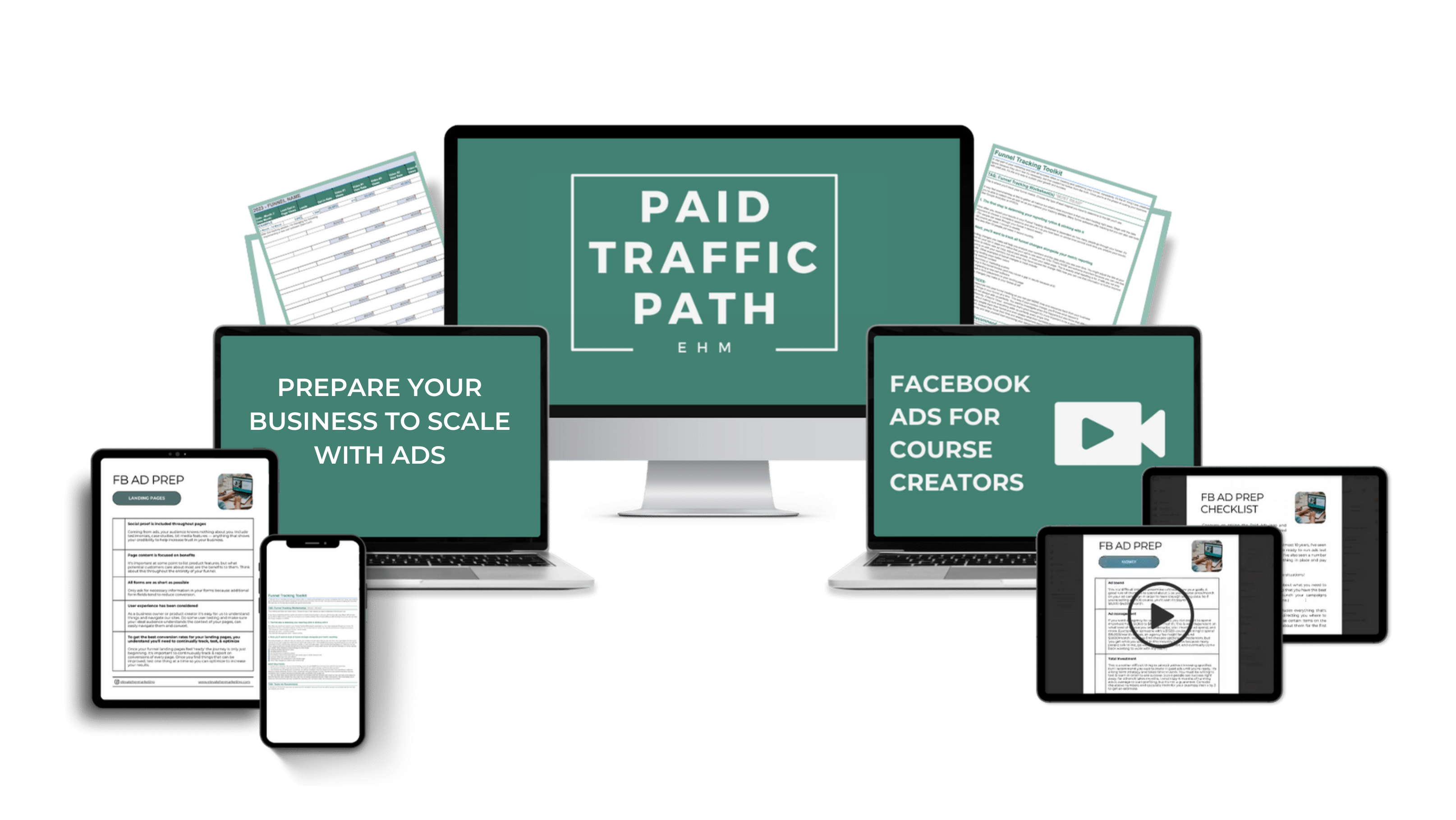 Everything you need to prepare to scale your online course business with ads.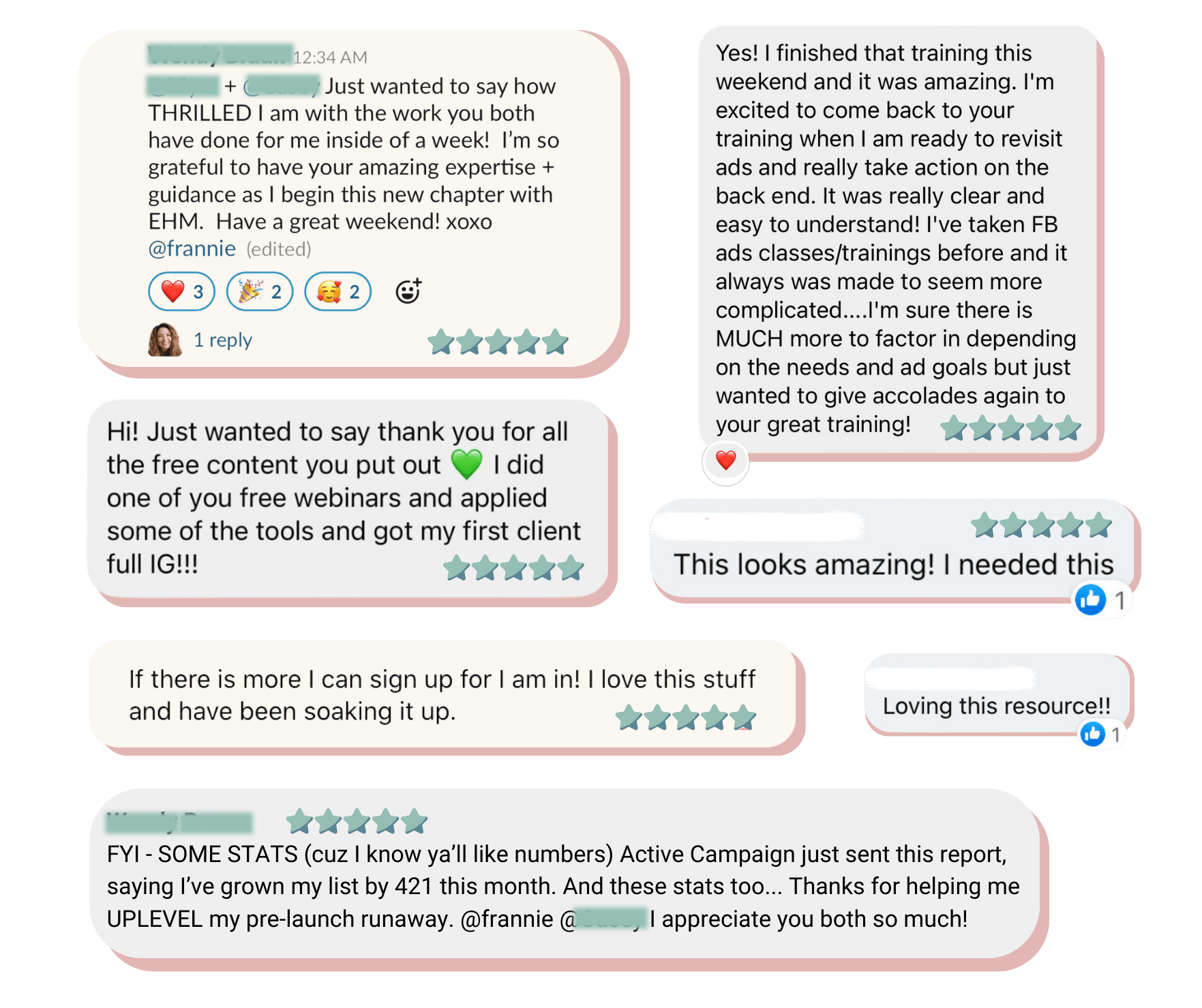 Frequently Asked Questions
Is this something I really need before launching ads?
That choice is yours, but I've been running ads for online course creators since 2014 and have seen it all. I've included all the important things I see people miss when prepping for ads in this product (plus more!)
Do I get access to the EHM team if I purchase this product?
When do I get access to the resources inside & how long will I have access for?
You'll have instant access to all product resources and you'll have lifetime access to them! You'll receive your access details via email so be sure to check your junk mailbox if you don't see it in your inbox.
Does this work for any type of business?
No. This product is specifically made for online course & digital product creators. It's not a good fit for local businesses or ecommerce companies. 
Will I be able to launch ads after completing this?
No. This product is aimed at helping you prepare yourself and your business for ads. You'll need to do some more campaign building before actually being ready to launch an ad campaign.
How much time do I need to complete this mini-course?
It should take you a few hours to read through everything and execute on the work, but running ads is a long term strategy and this is just the beginning.
Does this have tech info if I'm not sure how to set up my Facebook Ads account?
It doesn't! But you can find GREAT info about this on Youtube by searching exactly what you want to do and filtering by info from the last year. 
Here's what this product

IS

& what it

ISN'T
Everything you need

to prepare to scale your online course business with ads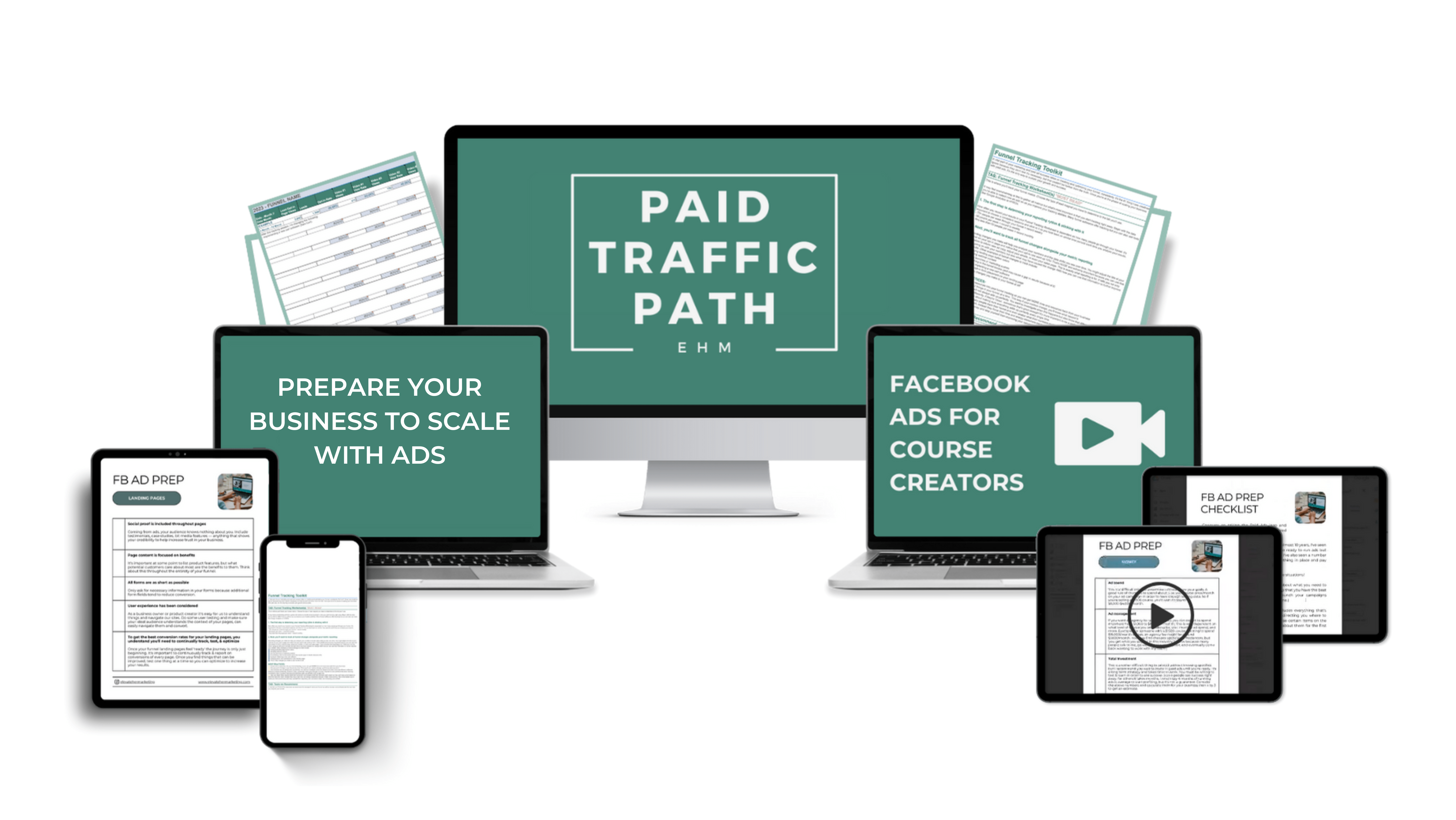 Ad Results & Profit Elevator Calculator
Setting Expectations for a Realistic FB & IG Ads Journey
Top Performing Online Course Ad Copy & Visuals
AM I THE

RIGHT PERSON

TO LEARN FROM?
I've been running ads for online course creators since 2014 and have personally helped them make over $10 million in profit. 
I started my digital marketing journey working for and learning from Tier Eleven, a highly respected agency running ads for people like Amy Porterfield and Mindvalley. 
People love my approach to ads because I tell it like it is, there's no fluff or guarantees here – I give you the realistic view of what a FB & IG ads journey will be like.
They also like the results I deliver 😉 I'm the queen of being supportive through the entire ads journey, holding your hand when necessary and explaining things in a way that anyone can understand, even if you hate tech and numbers. 
I studied marketing in college, got my MBA in business, and have been working in marketing since 2010. While ads change a lot, knowing the foundations of marketing is what really allows people to see success and I've got 10,000 hours in.
Most of my clients have been working with me for years because of the relationship we build with them, not only by delivering amazing results but because of the amount of strategic support we provide them. I love seeing women have the power to live a life of freedom when their business provides them income to do that!  
I can't wait to help you get started on that journey.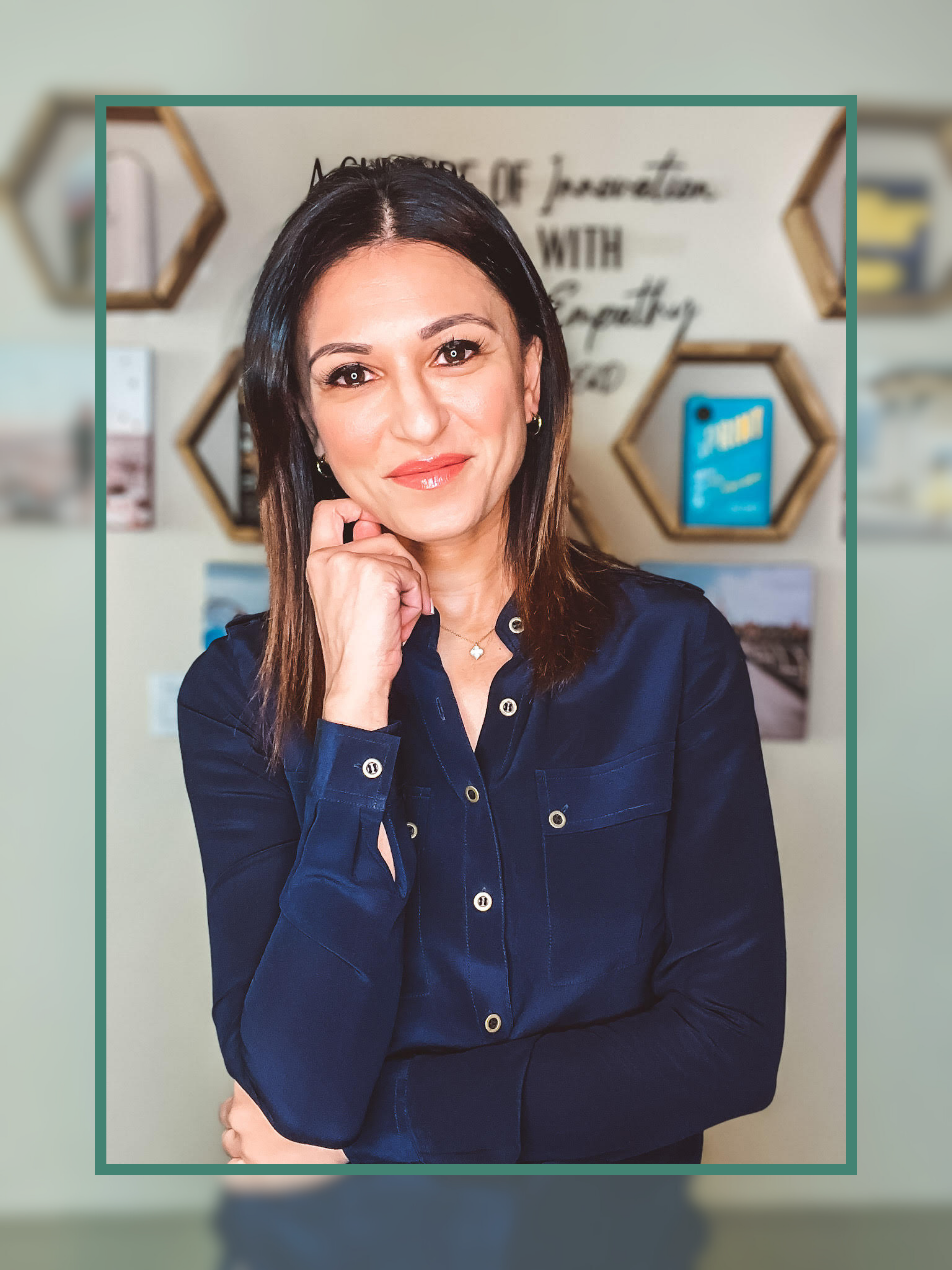 "What truly sets

Elevate Her Marketing

apart is their client-centric approach…If you're looking to level up your Facebook advertising game, even if you think you aren't ready to do so, I absolutely recommend it. The confidence they give you along with their incredible strategies and ideas will take you from curious to confident about using ads."
Dr. Sabba Quidwai

–

Founder of Designing Schools
Still looking for more info?
Here's the deal…
You don't have to scale your business with FB & IG ads. It's your choice to decide if they're right for you. You can continue to grow your email list & sales using the same methods you've seen work for you in the past.
BUT, if you feel like you're ready for something faster or you're looking to take something off your never-ending TO DO list and you've looked at others and wondered "How did they grow so quickly?"
Then RIGHT NOW is the moment you choose to scale your business faster & bigger than you've ever dreamed possible. 
In a year, other course creators will be looking in your content talking about how fast your email list grew and how many sales your making daily asking themselves "I'd die to be getting those results!"
So, if you're ready for that kind of success, make the choice to click and move your business & life closer to that dream you've had for way too long!