9 Weeks to a Streamlined Facebook & Instagram Ads Growth Strategy
Want to attract paying customers consistently — in a way that's actually sustainable?
You've been "testing out" Facebook Ads (or you've been curious about great Facebook ads) for a while now … but you're not meeting your Facebook campaign objectives by Googling endlessly or piecing together an ads "plan" from YouTube videos and free PDF guides.
You're AMAZING at the work you do, and you're ready to magnetize new clients with the power of Facebook and Instagram Ads.
You've been CRUSHING it in the online biz space … and you're not slowing down anytime soon.
Your clients sing your praises – "You're the BEST kept secret on the Internet!" they say, and you know what?
They're right – you ARE.
But you're ready for something more than just making sales – you're ready to be a leader in your industry.
You deserve the big business dreams you have.
But you're not confidently booking out your products and services yet … you need a simple, streamlined plan to understand how to navigate Facebook and Instagram Ads to make them your strongest ally in growing your business sustainably (without late-night burnout and content fatigue from creating 10 new organic social posts per week!).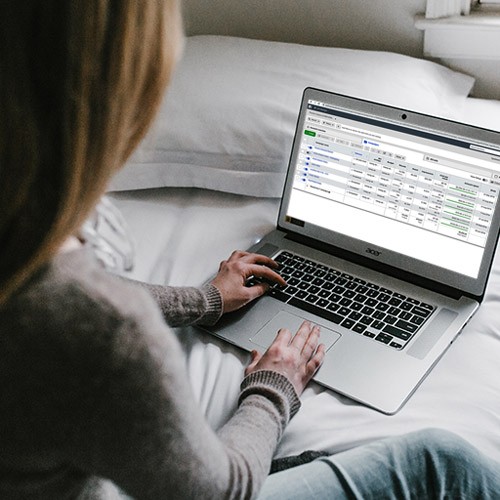 Sure, you might choose your work hours, but do you truly feel the freedom that having your own online biz can deliver?
You know that great Facebook ads are a powerful tool that can help your business blow the EFF up, *IF* you run them right.
You've been dabbling and experimenting, but haven't had any measurable success. Plus, just looking at the inside of your Ads Manager dashboard gives you a mini panic-attack. #overwhelmed
What if there were a better way?
What if YOU were TOTALLY capable of running your own ads without hiring a fancy agency or pouring money down the toilet on home-baked ads that don't convert?
You CAN simplify and streamline your ads strategy so you're only doing what works for you and cutting out all of the fluff. (We are anti-fluff around here — you're too busy for that, so we focus on giving you the basic steps and letting you grow from there.)
It's time to leverage the power of great Facebook ads to amplify and ELEVATE your business

A  digital course designed to help you gain the  traction & momentum for your business that you've been chasing after.
It's built from our signature framework that we use to generate $150K in profit for our client's launches or $50K in monthly recurring profits from their evergreen courses.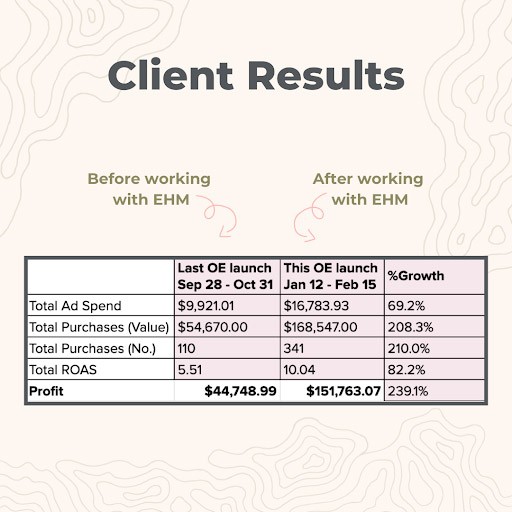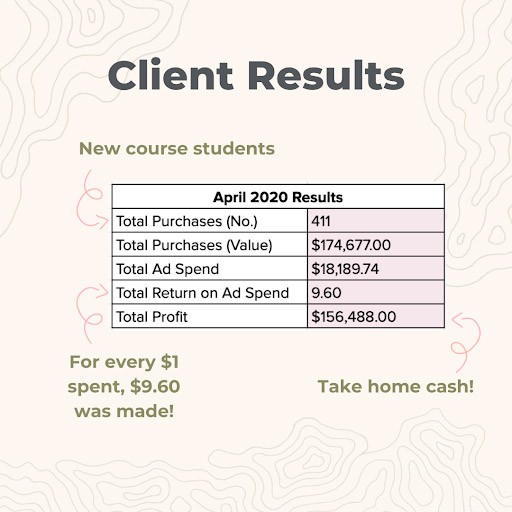 Before you click away thinking some of those numbers don't apply to you, DON'T WORRY, we know you're just hoping for your first handful of successful campaigns, so we won't overwhelm you with anything crazy-complicated. We'll help you master the basics first!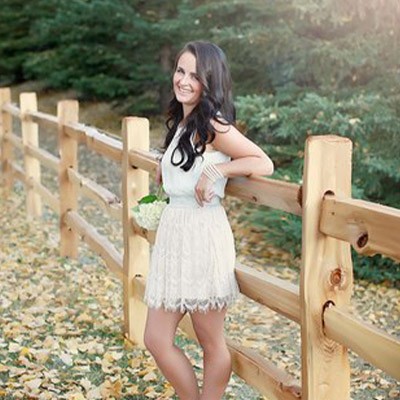 "If I hadn't joined Elevate Your Ads, I would still be mindlessly roaming Google looking for a lifeline! Before EYA, I could never find a Facebook Ads program that didn't feel massively overwhelming.
In the EYA course, I learned how to properly set up audiences, maximize the pixel and the biggest one– setting up a budget that will work. I'm using what I learned to help my clients with their ads, and my clients are over the moon excited to start properly targeting and get some tangible ROI/metrics."
– Raquelle Kilotaitis, Elevate Your Ads student
"My biggest aha moment from working with Elevate Her Marketing was literally that I didn't know how to set up Facebook ads. I really didn't, I swear I spent so much time Googling and I still couldn't figure it out. So this was amazing. Just having someone literally tell me exactly what to do, how to set up the campaigns, the ad sets and the ads."
– Christy Barre, Travel Blogger & Online Business Mentor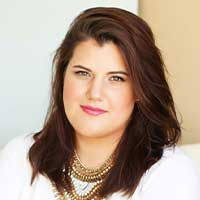 "I had 1 sale from my ad which is very exciting and makes me hungry for more! I also feel more confident in the setup and audience choices so the foundation feels really solid.."
– Amelie Mettenheimer, Elevate Your Ads Student
Here's what's inside Elevate Your Ads
Set up your ad account so you can run ads!
Ads Manager: a quick tour
The Facebook Pixel: what it is and how to set it up
Foundations: What's a funnel? How does it work?
Setting up your unique custom conversions
Audit Time: Double-check your funnel for potential holes
Building Your Campaign Base
Avatar: dissect your ideal client
Audiences: Learn all about how you can target people with ads
Building your warm & hot audiences
Building your cold audiences
Start building your campaign plan
Crafting Hooks: How to reel in your audience
Ad copy principles
Ad copy library: over 50 examples of successful ads
Ad Visuals: learn how to make a scroll stopping visual
Ad visual library: over 50 examples of ads visuals that stop the scroll
Video scripts for your face to camera ads!
Step by step how-to create ad visuals with free apps
Build your ads inside ads manager!
Create your ad sets
Add your copy & visuals to your ads
Use social proof to increase your ad results
Learn other campaign types (for podcast ads, retargeting, and more!
What to Do After You Launch
Optimize your ads for best results
Breakdown your results for even more insights
Check out your best performing ad copy & visuals
The Troubleshooting Tincture: the BEST resource in the course. Know how to improve results you're not happy with.
Reporting & Analyzing Data
Create weekly reports to best check-in on your ads
Build monthly conversion reports so you know here the holes are
Learn Facebook's reporting tool
Troubleshooting: Tech Issues, Ad Disapprovals, Account Disablements, etc.
How to manage contacting Facebook support
What to do if you have tech issues
What to do if your ad gets disapproved
How to handle your account getting disabled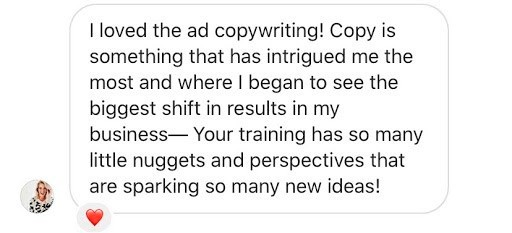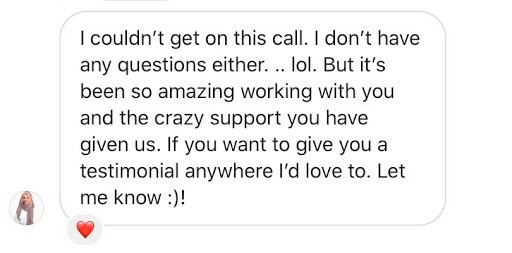 "I have been running ads for a week now [based on what I learned in Elevate Your Ads] at $2/lead, had three cold leads already, booked a call with me and pocketed 44 new subscribers. I don't think it could be better! I can easily make ads myself for low-cost and high-cost offers."
– Kulsum, Elevate Your Ads student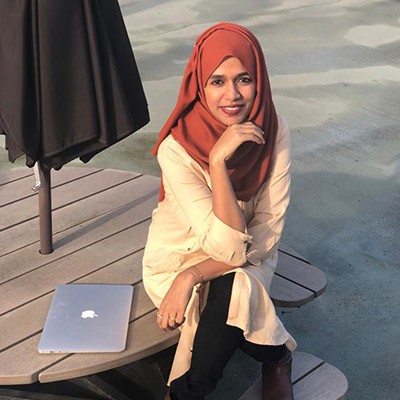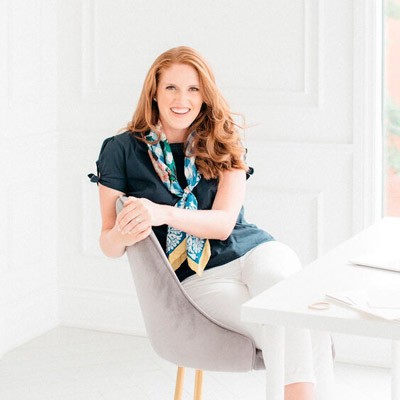 "Since running ads, my revenue, email list, and the Instagram following are growing faster than ever before!"
– Paige Brunton, Founder & CEO, Online Business Mentor & Squarespace Expert
But will you have TIME to follow through on what you'll learn inside EYA without getting overwhelmed?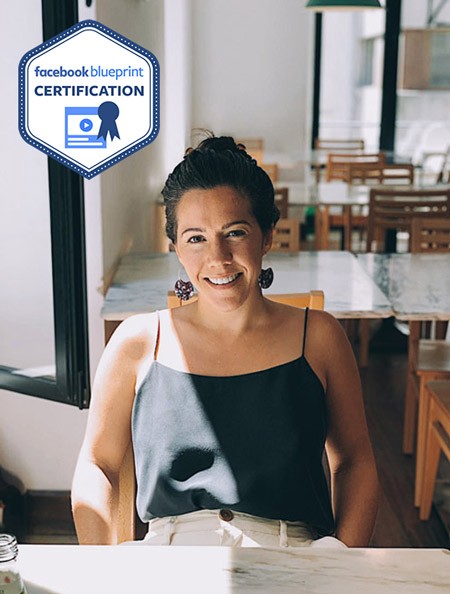 and I believe you CAN master the basics of Facebook and Instagram Ads and walk away from this course with your first handful of successful ad campaigns (with the sales to prove it!).
I spent seven years in Manhattan learning how to #hustle at a startup (and also snag the best $1 pizza, but that's a story for another time). Once I realized the cubicle life wasn't for me, I set out taking all the online courses I could, eventually landing a contractor gig at a Facebook ads agency (there weren't even IG ads back then!)
I started my ads career working on campaigns for incredible female leaders like Amy Porterfield and Brooke Castillo — experiencing first-hand how ads helped skyrocket their business success.
I've run ad campaigns generating millions in profit and worked with female entrepreneurs across the globe. In this course I chiselled away the fluff and distilled the core of that work….years of study, experience and overall nose-to-the-grindstone hard work in this industry so you can leverage these strategies to elevate your business & life.
With Elevate Your Ads, I want to help even more entrepreneurs (aka YOU!) level up and nail Facebook campaign objectives in a BIG way.
Here's why this course is a GAME-CHANGER:
Online business is more important than ever. Facebook and Instagram have proved themselves to be here for the long run, and people are spending a LOT of time on these platforms right now (thanks quarantine!?)
… but great Facebook ads are not the easiest thing to learn: knowing how to leverage FB & IG ads puts you ahead of the game — and gives you a chance to move even further forward, faster.
This is the most approachable, foundation-level ads course…that's taught by the people with experience at the HIGH level of ad results so we understand every question that you throw our way.
There's literally no other way to work with me and my team at this price point. What you're getting from this course – aka years of experience, running millions of dollars in ad spend – translates to at least 5X this price if you were to coach 1:1 with me.
Here's what you get inside:
9 modules chock-full of more than 30 step-by-step video trainings Valued at $1,500
18 templates, roadmaps, checklists to help you implement like a BOSS! Valued at $999
Access to the course for the lifetime of the product, including all upgrades! Valued at *literally priceless*
BONUS #1:
$75k Evergreen Webinar + Online Course FB & IG Ads Plan
Valued at  $628
Discover exactly how we built our client's campaign so you can use our strategies to build your own!
In this campaign plan, you'll see our targeting options, budget breakdowns, exact ad creative, and more! Plus I'll walk you through the entire plan in an accompanying video training!
BONUS #2: Empowered Copywriting For Facebook Ad Conversions
Valued at: $397
Learn how to AMP up your FB & IG ads copy with EHM's own copywriter, Katelyn Collins who writes for the likes of Tarzan Kay, Celinne DaCosta, and all of our clients!
In this video training, you'll learn:
4 copy lifts to instantly increase your chance of converting customers and meeting all your Facebook campaign objectives 
4 creative ways to incorporate more social proof (plus a bts look at how we used them to write some of EHM's highest-converting copy)
The biggest mistake most non-copywriters make when writing sales ads (and how to avoid it, duh)
The vital difference between writing ads that sell and ads that CLOSE — and why you need to be writing the latter
2 proven & repeatable ad formulas you can use to close more sales
BONUS #3: Thriving After the iOS Privacy Update Mini-Course
Valued at $1075
The mini-course that will walk you through new crucial tech setups and current strategies so you too can continue to grow your business with Facebook ads.
In this video training, you'll learn:
Get the inside scoop on exactly WHAT went down with iOS updates and HOW it impacts Facebook ads
Execute the tech changes your systems need
See exactly how to implement some of the tech changes with video tutorials
Peek behind the curtain of a multi-six figure Facebook Ads agency and learn what's working RIGHT NOW (aka the big shifts in how ads are run post update)
Imagine what it would feel like…
… to wake up to BIG CLIENT WINS on a weekly basis (in the forms of texts they sent at 3 a.m. because they were SO EXCITED).
… to focus on the FUN parts of your biz, because ads helped you scale and (mostly) automate consistent revenue each month.
These are all within your reach. But it's time to decide you want it for your business – and for yourself.
Elevate Your Ads is what you need to:
Grow your business faster than you could on your own
Set up an ad account and pixel your entire website (don't freak out if thinking about pixels and tech stuff intimidates you, I promise we'll make it feel easy!)
Confidently navigate your way around ads manager and utilize its tools for full business potential
Determine and allocate your budget (plus know exactly what results to expect from that budget!)
Develop a comprehensive audience list, and know how to strategically test what performs best
Craft ad copy that speaks to your avatar (hi, Courtney!) and compels them to take action
Design ad visuals that stop your ideal audience's scroll … and make them CLICK!
Optimize your ads based on the right data points
Launch your first successful ads campaign and elevate your business to heights you never thought were possible!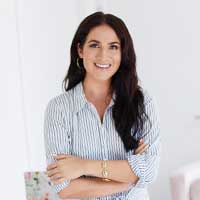 "Not only has investing in Facebook and Instagram ads taken my business to a new level financially, it has also paved the way for me to create future profitable courses & offerings, hire other key employees in my business and grow my business to a place I once could only dream about."
– Christina Galbato, Influencer & Online Educator
"I help my clients with their ads, and they are over the moon excited to start properly targeting and get some tangible ROI/metrics!"
– Raquelle Kilotaitis, Elevate Your Ads student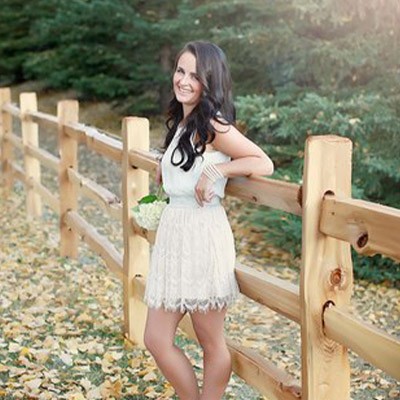 Are you ready to
elevate your business?
Real talk: committing to doing the work necessary to streamline your ads strategy takes a specific type of entrepreneur. Here's how to tell if Elevate Your Ads is for you:
You're ready to grow your business with great Facebook ads – but no burnout allowed.
You know that a little tech trouble comes with the territory.
You've never been afraid of hard work and you're willing to make time to learn the strategies that will get you your first successful campaign!
You're serious about achieving your business goals – you've got a roadmap for where you want to be in 3 months, 6 months, a year to five years out.
You'd LOL SO HARD if you heard someone say, "Ads are gonna run my entire business, so I can just stop working." (C'mon we're realists here, that's not how any of this works).
Ready to get started? This course is going to take you and your business to new heights – I can't wait to take this journey with you.