"WAIT… so even after the iOS update,
Facebook ads are still a thing?"

YES, Even with the iOS update, Facebook ads are still a profitable scaling strategy for online business owners.
3 months after the iOS update went into effect, one EHM client made $422,000 in profit from their Facebook & Instagram ads.
This mini-course will walk you through new crucial tech setups and current strategies so you too can continue to grow your business with Facebook ads.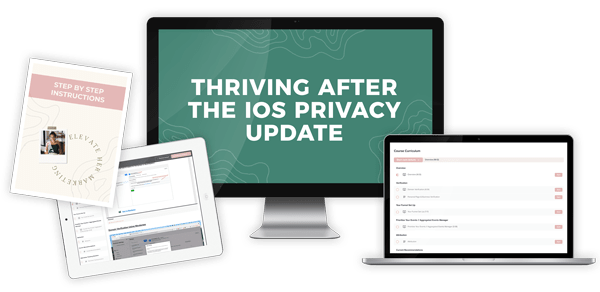 But let's blast to the past real quick…
…to 2020, when Apple announced it would change tracking capabilities on iPhones in order to give users more control of their data privacy. 
The reason? Data protection and user choice.
The reality? As of late May 2021, data reports that only 12% of people have opted-in to Facebook ad tracking on iOS 14. That means there's an extremely limited number of people we can target and track using ads.
BUT it's still possible to run Facebook ads successfully – with the correct adjustments.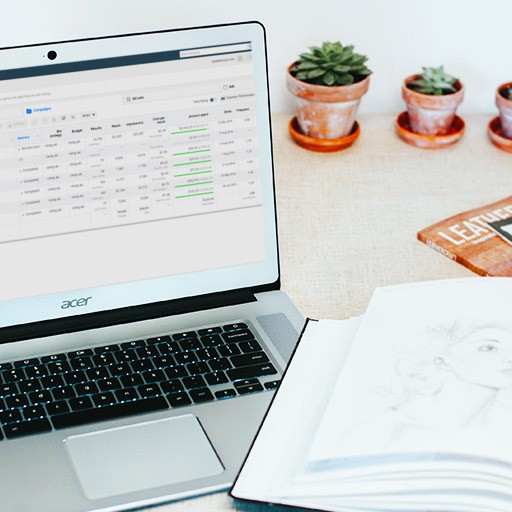 What if you had the proven blueprint to…
Finally understand the iOS 14 update and its impact on advertising 
Update your systems so you can run Facebook ads in this new post-iOS tracking world
Get swoon-worthy results from specific ad strategies that are working right now (even in a post iOS world!)
Identify alternative tracking systems to make up for some of the lost data
I'm not gonna lie, in a post iOS update world, ads WILL be tougher. But you've got us!
That's why I'm excited to introduce…
Thriving With Facebook Ads After the iOS Privacy Update
Your need-to-know guide to scaling Facebook Ads, from essential basics
to crucial tech changes, and what's working now strategies.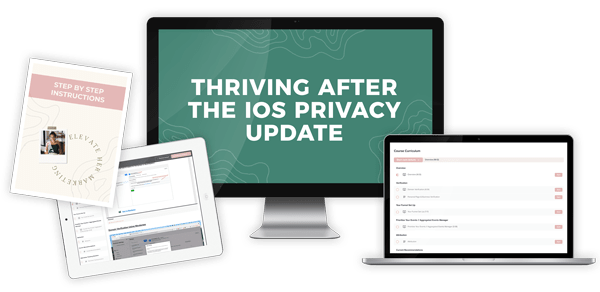 This is for the ambitious, go-getter course creator who still wants to use ads to rocket-launch their business, but isn't working with an ads agency or doesn't have a developer/tech on their team.
We've spent hundreds of hours since January 2021 figuring out all these changes – all the testing, tech troubles, and going back and forth with support as we figure out what works and what doesn't. We've done that for you.
With this Thriving After the iOS Privacy Update mini-course in your back pocket, you'll…
Get the inside scoop on exactly WHAT went down with iOS updates and HOW it impacts Facebook ads
Execute the tech changes your systems need
See exactly how to implement some of the tech changes with video tutorials
Peek behind the curtain of a multi-six figure Facebook Ads agency and learn what's working RIGHT NOW (aka the big shifts in how ads are run post update)
When you purchase Thriving After the iOS Privacy Update, you'll get…
so you don't feel like you're being stranded in the middle of tech land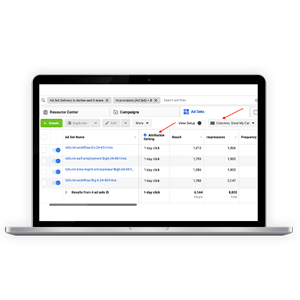 FACEBOOK ADS MANAGER SCREENSHOTS
so you know exactly where you're supposed to be at every step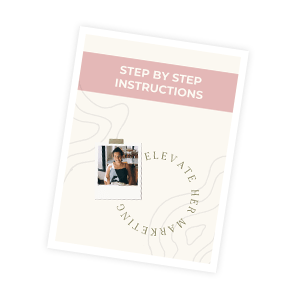 STEP-BY-STEP PDF INSTRUCTIONS
for my static visual learners – or just in case you want to reference something quickly
What's the VALUE of this Facebook iOS 14 update mini-course?
You want the numeric value of what you're getting inside Thriving After the iOS Privacy Update? Yup, you'll do just fine with Facebook Ad data…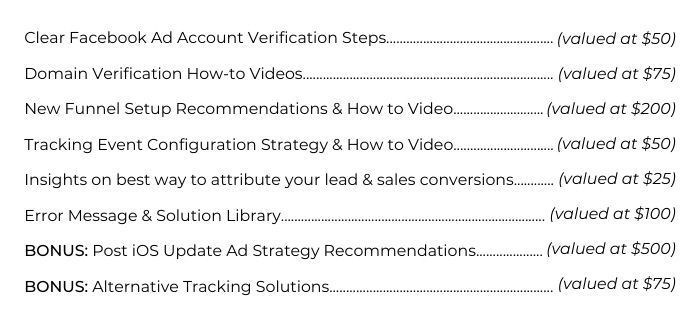 Clear Facebook Ad Account Verification Steps (valued at $50)
Domain Verification How-to Videos (valued at $75)
New Funnel Setup Recommendations & How to Video (valued at $200)
Tracking Event Configuration Strategy & How to Video (valued at $50)
Insights on best way to attribute your lead & sales conversions (valued at $25)
Error Message & Solution Library (valued at $100)
BONUS: Post iOS Update Ad Strategy Recommendations (valued at $500)
BONUS: Alternative Tracking Solutions (valued at $75)
TOTAL VALUE = $1075
Low Price Of = $97
What Our Happy Clients are Saying: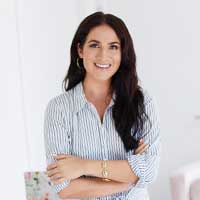 What I love most about Frannie and the Elevate Her Marketing team is, they know their stuff. They know what works, they're constantly testing out new strategies, and adapting to industry trends. They are just really, really on top of the world of Facebook ads and consistently get me good results.
– Christina Galbato, CEO, Influencer & Online Educator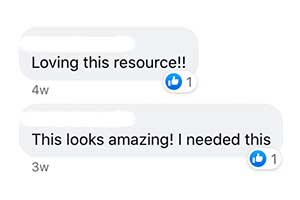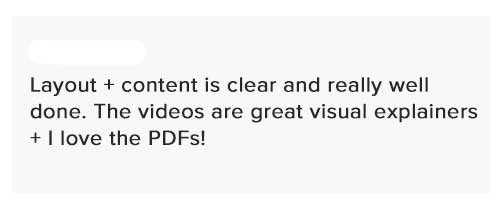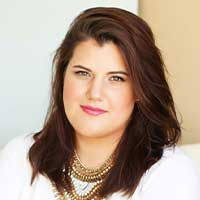 I enjoy what Frannie teaches on Instagram and could see that this was real + deep on content vs fluffy top-level stuff.
– Amelie Mattenheimer, Breathwork Coach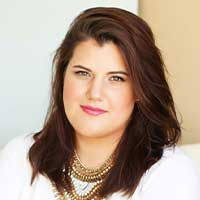 Here's what this IS and ISN'T:
What Thriving After the iOS Privacy Update IS….
An overview of what Apple changed & how it impacts FB Ads for online course creators
What the ad strategy for campaigns generating $10K and above looks like now, compared to before – and what's actually working for Facebook ads after the iOS privacy update
How you can adjust to ensure you can continue running ads that track as much as possible
For the advertiser who is willing to get their hands dirty with a little bit of tech but isn't a developer and wants something easy to understand
Something you can implement for any digital or online course product you want to sell
What Thriving After the iOS Privacy Update IS NOT….
A 'back to normal' solution (sorry, it's official: everything has changed. This product won't make things go back to what they were before the iOS update)
Hours and hours of videos
A full Facebook Ads campaign strategy or course
Why take my word for this whole "Facebook Ads thing?!"
I'm Frannie.
The CEO of Elevate Her Marketing, a multi-six figure, boutique Facebook and Instagram advertising agency. With my team of experts, I help 6 and 7 figure clients take their businesses to the next level.
At EHM, our goal isn't just to elevate the businesses of female-identifying entrepreneurs. By helping them scale their businesses through ads, we know we're creating the kind of impact that elevates their lives too. Thanks to ads, things like investing in some of the most expensive US real estate markets, paying off 5-figure debts, and stepping away from the time-suck of social media are now options for many of our clients.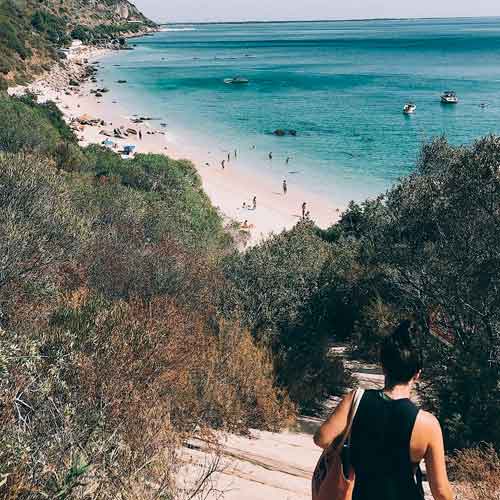 But we don't just talk big. We practice what we preach: our team is fully remote, all over the world and many run their own online businesses in addition to bringing well-honed skills to our client campaigns. We believe in work that supports the lifestyles we desire, and live that every day.
We're dedicated to crafting ad campaigns that actually increase your profits, and designing creatives that do more than just stop someone's scroll – they turn your followers into a truly engaged audience that buys from you.