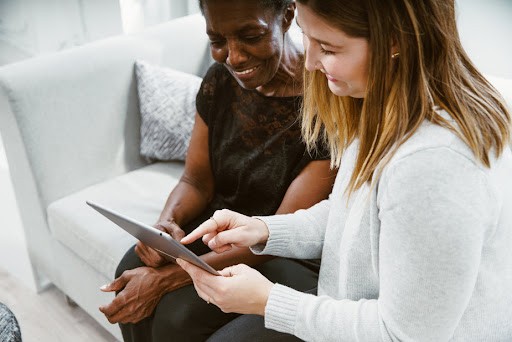 How to Build a Hybrid Organic and Paid Social Media Strategy
Organic social media posts may be free, but they don't always have the same impact as paid ones. Paid ads allow you to directly target specific demographics and tailor your message to their interests. They also make it easier to track your results. Regardless of what you decide on, organic or paid, both are important for a successful marketing campaign. In this article, we will go over some different social media strategy examples for organic, paid, or a combination of both.
A hybrid strategy is worth considering for most organizations. However, when considering organic vs paid social media, it can be difficult to find the balance between these two mediums. Here, we will lay out an action plan for a successful blend of organic posts, sponsored posts, and ads.
What Is a Hybrid Organic and Paid Social Media Strategy?
A hybrid strategy uses both organic posts and paid ads. It's important to develop a plan before deploying a hybrid campaign so you know what percentage of content to dedicate to each channel.
Why Use a Hybrid Organic and Paid Social Media Strategy?
There are a few reasons to use a hybrid strategy. First, it allows you to reach a larger audience with your message. Second, it allows you to target specific demographics with your ads. And third, it has some potential to help you save money on your overall marketing budget.
How to Create a Hybrid Social Media Strategy
Now that you know what a hybrid organic and paid social media strategy is and why you would want to use one, let's look at how you can build your own.
There are a few things you'll need to do to roll out a hybrid social media campaign:
1) Decide what your goals are.
The first step is to figure out your goals. Do you want to reach a larger audience? Target specific demographics? Save money on your overall marketing budget? Once you know what your goals are, you can move on to the next step.
2) Decide which platforms you will use.
The next step is to decide which platforms you want to use for your hybrid social media strategy. There are many different options out there, so it's important to choose the ones that will work best for you. Some factors to consider include:
What are the demographics of your current customers?
What are your current/existing traffic sources?
Which platforms are your customers and prospects on?
Which platforms best support and deliver the types of content you want to publish?
Which platforms provide you with the largest audience and best targeting options?
3) Create a content calendar.
The next step is to create a content calendar. This will help you keep track of what content you need to create and when you need to post it. There are many different ways to do this, so find the one that works best for you. There are several available, like this social media calendar published by SEMRush (just click the "Make a copy" button to get your own copy of the Google doc).
4) Create content for each platform.
Now it's time to create your content. This can be anything from posts to videos to infographics. The important thing is to create something that will be valuable to your audience and align with your goals.
Once you know which platforms you want to use, it's time to start creating content for each one. The type of content you create will vary depending on the platform, but there are a few things to keep in mind no matter what:
Make sure your content is high quality.
Keep your audience in mind.
Be consistent.
Plan your content in advance.
Pro tip: Try repurposing. This is when you take a larger piece of content like a blog post or video and break it down into digestible bits for each platform.
Every medium has its own idiosyncrasies: for example, Instagram is very visual, so using powerful images or videos is a must; Facebook is perfect for long-form content, and Twitter is great for quick updates and newsjacking.
Currently, video is the best performing content on every social media platform, so try to include it in your strategy.
5) Publish your organic content.
Now you can publish your content. If you are publishing on multiple platforms, you can store and schedule your content using a scheduling tool like HootSuite, Buffer, Sprout Social, Agorapulse, SocialOomph, or others.
Organic is just one part of the marketing strategy and a good way of managing reputation, interacting with followers, and building a community.
PRO TIP: Try publishing stories as well as posts. Both stories and regular posts have the potential to reach your audience in different ways, and each provides benefits.
6) Set up and launch your paid ads.
The next item on the list is to set up your paid ads. There are many different options for paid ads, so take some time to research which ones will work best for you.
It's important to know what medium is the best to achieve each of your goals. For example, Facebook ads are able to target certain demographics, while Google Ads can find people who have a specific search intent.
When running a paid ad campaign on social media, it's important to remember a few key things:
Your ad copy and visuals should be engaging and relevant to your target audience
The call to action must be singular and clear
Track results and make adjustments as necessary based on performance
Have a marketing ecosystem in place to convert visitors who click on your ads
If you want to achieve significant results, you should always include paid ads in your strategy. This can be done through a variety of methods, such as:
Sponsored posts
Lead ads
Image ads
Video ads
Carousel ads
Slideshow ads
Poll ads
Collection ads
Instant experience ads
Influencer marketing
Collaborations
The last step is to monitor and adjust. This is an ongoing process, so don't expect everything to be perfect from the start. If you stick with it, you'll eventually find the perfect balance for your hybrid organic and paid social media strategy.
Use organic posts for the potential to reach a larger audience through viral content
Use paid ads to target specific demographics and encourage specific conversion actions
Use a mix of content types
Be consistent with scheduled posts
Always be on brand, on message, and working toward your goals
Monitor your results and adjust accordingly
With the right planning, you can create a hybrid organic and paid social media strategy that will help you achieve your goals. Be patient, experiment, and track your results.
Examples of Successful Hybrid Social Media Strategies
Some successful hybrid social media strategy examples include Sunski, Kiehl's, and Dollar Shave Club. AdRoll does a great job of breaking down the posts and ads and why they work.
A hybrid strategy is the best way to leverage your social media marketing efforts. Using a mix of organic and paid techniques, you can reach a larger audience, target specific demographics, build a community, tell your story, and create a more effective overall strategy.
Download the Marketing Ecosystem Ebook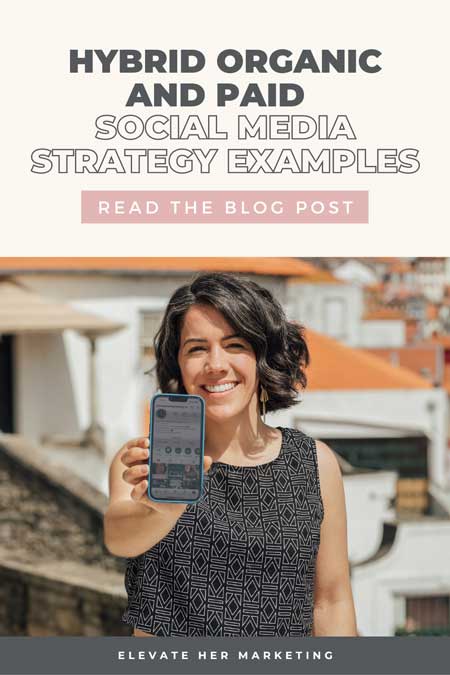 Share this post!