6 Unique Facebook Advertising Tactics for Course Creators
Marketers have been using Facebook for years to promote their products and services. And while some marketers are still unsure of how Facebook ads work, it's hard to deny that they're an essential part of any modern marketer's toolbox.
In this article, we'll explore 6 strategic Facebook advertising tactics to promote your courses. Whether you've never tried a Facebook ad before or if you want to get more from your current campaigns, you'll find something in here worth trying out today. Let's jump in!
Remember: these are not only for beginners!
If Facebook advertising isn't working for you, it might be because you need to refine your buyer persona.
A buyer persona, or avatar, is an imaginary person who represents your typical customer. If you have a small business selling home-delivered meal kits, for example, your buyer persona might be a single mom in her 30s with kids. She's probably working long hours to support her family, which means she needs quick and easy recipes that are healthy but require minimal ingredients.
The great thing about creating a specific buyer persona is that it helps you tailor your ad campaigns to your target demographic. For example, if you're selling fitness products, you could show ads to users with similar interests, such as people who work out regularly – or if you really want to hyper-target, you could show rowing machine ads to outdoor/rowing enthusiasts when it's winter in their city.
Have an irresistible offer
Earlier, we talked about how essential buyer personas are to running successful Facebook ads. But no matter how targeted you get with your ads, they'll never convert if you don't have an irresistible offer.
An irresistible offer is so good that it can't be ignored. It doesn't matter how targeted your buyer persona is or what industry you're in; every marketer needs a great offer to get conversions.
Think about why people click on ads in the first place: they have an interest or a need, and an opportunity presents itself to fulfill a desire or solve a problem. For example, they may have spent time reading articles about or participating in groups related to health challenges, and an ad for nutritional supplements or intermittent fasting appears in their feed.
No matter what your target market is looking for, you can find a way to solve their problem with an irresistible offer. For example, if you run a course on making extra money as a side business, you could offer a free resource like a worksheet or an infographic.
That way, when people click on your ad, they're seeing something valuable right away that moves them toward a decision. Even better: if the offer, price, and positioning are good enough, you might end up with a new lead for your email list or a customer who's willing to spend money on your products.
Join Our Mailing List for Facebook Insider Information!
Use the customer journey map
A customer journey map is a planning tool that helps you understand where your potential customers are in their buying process. It's crucial for creating effective Facebook ads because it helps you target your audience based on where they are in their buying cycle.
This information is valuable because you can tailor your ads to match their needs, so they don't get overwhelmed with messaging that isn't relevant to them.
For example, if someone just downloaded a freebie, it would be irrelevant for you to show them an ad for a pricing page (when someone finds your business for the first time, they're typically not ready to buy something from you). But you could show them an ad for your email list so you can build a relationship with them and keep your offer top-of-mind, in case they're ready to buy someday.
This is why the customer journey map is essential because it helps you avoid wasting money on ads that don't get results. You can save time and money by only targeting people who are ready to buy. And the best part is, if your offer is good enough, you'll be able to turn your list of cold leads into hot buyers in no time.
If you already have a customer journey map but aren't seeing the results you'd like, take a look at the conversion metrics for each step to discover where you could do some tweaking. Sometimes testing new elements on a landing page or removing an unnecessary step in your customer's journey can drastically increase your profits!
Run retargeting campaigns
Retargeting is when you show ads for your course to someone who visited your landing page but didn't purchase anything. It helps keep you fresh in their mind and reiterates that the solution they were looking for is still out there.
Retargeting campaigns are especially effective because they show ads to people who already know your brand which means they're more likely to convert. You're simply bringing them back to your site, but this time with a clear call-to-action that gets results.
Retargeting campaigns can be very affordable and you can usually still get a high ROI when you run a campaign with a strong offer.
Increase Conversions with Reviews or Testimonials
Another great way to get more conversions on Facebook ads is to include reviews or testimonials. People trust recommendations from others vs. businesses, so if you can include positive testimonials on your Facebook ads, it'll help convince them to click through.
You can ask your current customers for testimonials by using a Hello Bar or ask in person if they're willing to give you a testimonial in exchange for some type of reward.
Although buying fake reviews is tempting, it's not worth the risk. If people can tell your testimonials are fake, it will backfire and you can lose credibility with your audience.
Instead, focus on delivering value to your customers and building credibility over time. Then you'll gradually earn the right to ask for reviews and testimonials because they'll be real.
This is one of the best Facebook advertising tips and tricks you can master.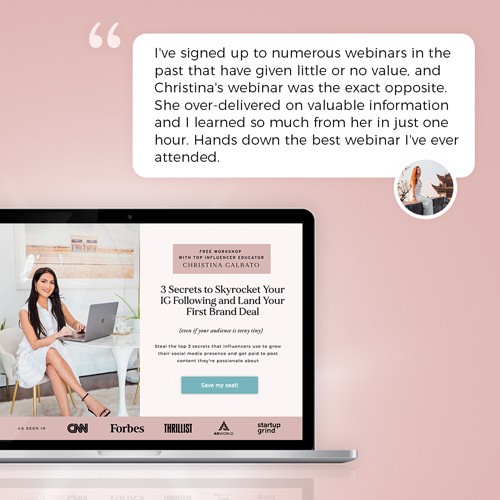 Use (more) custom audiences
Custom audiences are made up of people that already know your business, you can create a custom audience from any of these sources:
Your email list
Anyone that has DM'd you on Instagram
People that like your Facebook business page
Anyone that has viewed your Instagram REELs
Visitors to your website
People that have purchased products from you
And more!
Custom audiences are valuable for Facebook ads because you can use them for retargeting ads (you might want to send an ad to someone that has engaged with your Instagram page but isn't on your email list).
You can also use custom audiences to share information with the algorithm about people that have already shown interest in your businesses and then 'ask' the algorithm to go out and find more people just like them, that don't already know your business, by using Lookalike audiences.
Align Facebook Advertising Tactics to Improve Your Long-Term Strategy
Facebook ads are a great way to promote your online course, and knowing how to combine the right tactics is important to the success of any campaign. While it's tempting to look for quick wins, Facebook marketing requires a long-term strategy including defined goals, knowing the niche and audience, and refining your offer.
Join Our Mailing List for Facebook Insider Information!
Share this post!